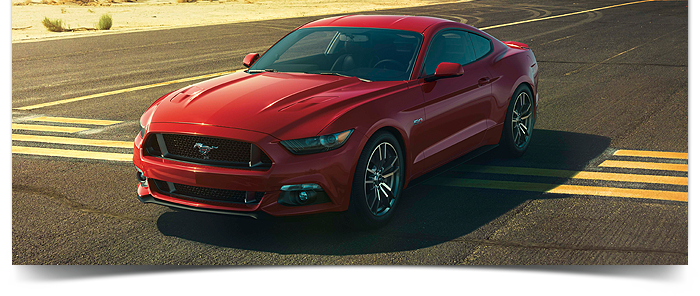 The Ford Mustang


With its sporty, hunkered down stance, the Ford Mustang preserves a legacy that defines innovation in the American automobile industry. This year, Ford is adding an Ecoboost engine to the latest model to celebrate the Mustang's 50th anniversary. Full of updates, new technology, and features sure to excite every car lover, this season's Mustang is pumping up the heat.
At its release, the Ford Mustang will be available as a coupe. Ford has plans to release a convertible version to the market three months after the coupe is introduced. Six trim levels are available in this model: V6, EcoBoost, EcoBoost Premium, GT, GT Premium and GT 50 Years Limited Edition. Furthermore, three additional trim levels of the Mustang have been revealed to soon come: Shelby GT350, GT350R, and GT500.
This pony car offers three great engines-all full of American soul. A 3.7-liter V6 engine with 300 horsepower and 280 lb-ft of torque is the standard base engine offered. Upgrade to the Ecoboost engine for a bit of turbocharge with a 2.3-liter four-cylinder engine producing 310 horsepower and 320 lb-ft. torque. This is the first ever Ecoboost engine offered in a Mustang model and has less than half the displacement of the 2005 equivalent engine model. The GT trim possesses a 5.0-liter V8 engine boosting 435 horsepower and 400 lb-ft. torque. Accelerating from zero to 60mph in just 5.9 seconds, fuel economy on the base engine averages 22mpg city and 31mpg highway.
The exterior of the Mustang resembles its muscular predecessors while including several newly integrated design themes that are popular in non-muscle cars. A hexagonal grille, idle headlights, LED tri bar tail lamps, and 19inch gloss black aluminum wheels are just a few features that are sure to exhilarate the senses. Inside the cabin, a duel-cowl-style dashboard offers all of the latest modern technology front and center. A steering wheel with telescope adjustment has been added to the driver cockpit, while the optional Recaro seats provide plenty of lumbar support, width, and legroom.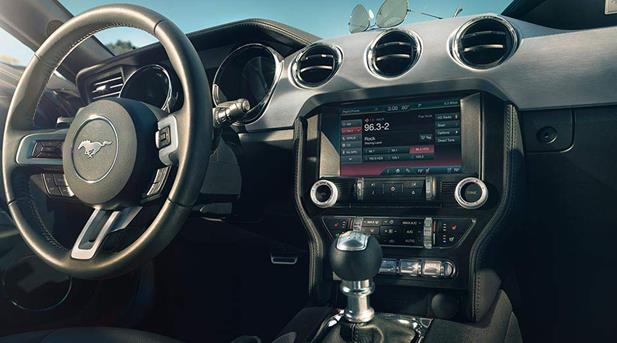 Innovative technology floods the interior of the Ford Mustang. New front and rear suspension work together to provide precise handling and overall vehicle control. Select customizable driver modes that allow saved driving preferences for conditions such as: snow/wet, sport, normal, and track. Sync with MyFord Touch that offers voice-activated technology allowing you to stay connected while keeping your eyes on the road. Other features include: smart ignition, BLIS cross lane assist, rain sensing windshield wipers, power assist, and Shaker HD audio speakers. 
In government crash tests, the Mustang coupe earned a five star rating overall for crash protection, making the Ford Mustang not only a safe and reliable ride but also a well-rounded stylish choice. Full of American tradition, this season's muscle car is back and better than ever.