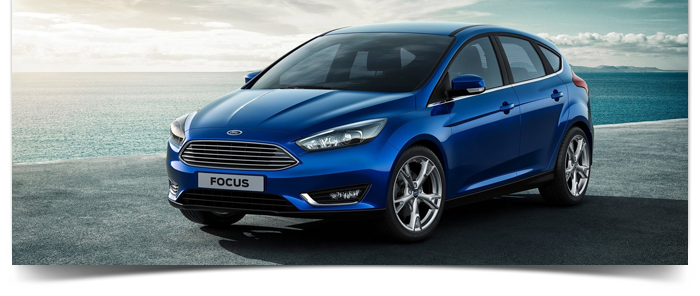 The Ford Focus


When it comes to choosing a new automobile, reliability and sleek design often go hand-in hand. Ford understands the importance of a vehicle that turns heads both on, and off, the road is equal to the desire for refined technology. One of the most engaging cars in its class, the Ford Focus is revving its engine this season, passing all other compact cars by with new dynamic updates.
Sophisticated to the core and delivering exceptional styling and comfort for the road ahead, the Focus is setting a whole new meaning to "think small."  Available in both a gasoline and electric model, with unique angular lines and modeling that accentuate the outer body, the Focus is consistently a symbol of motion. From the grille to the dragon-eye headlamps, everything about the vehicle conveys energy. Spice things up by choosing from a twelve-wheel lineup and over nine body colors. The new model is available in a choice of sedan or four-door hatchback and in three trim levels: S, SE, and Titanium.
Peek inside the cabin to be greeted by an unexpectedly upscale interior. The dashboard is surprisingly well organized for a compact car. Optional for the Ford Focus Electric model is the eco-conscious materials package, featuring cloth fabric made with REPREVE® fiber produced from 100 percent recycled materials and soy-based foam in the seat cushions. In all models, legroom is plentiful and the seats are comfortable, while cargo space can be expanded to an astounding 44.8 cubic feet. Inside the Ford Focus, craftsmanship is married to technology. Up front a tilt-and-telescoping steering wheel, a rearview camera, and 4.2-inch central display may be found. Equipped with Ford's MyKey, Sync voice controls, Bluetooth, and a four-speaker sound system, the Focus is ready for adventure.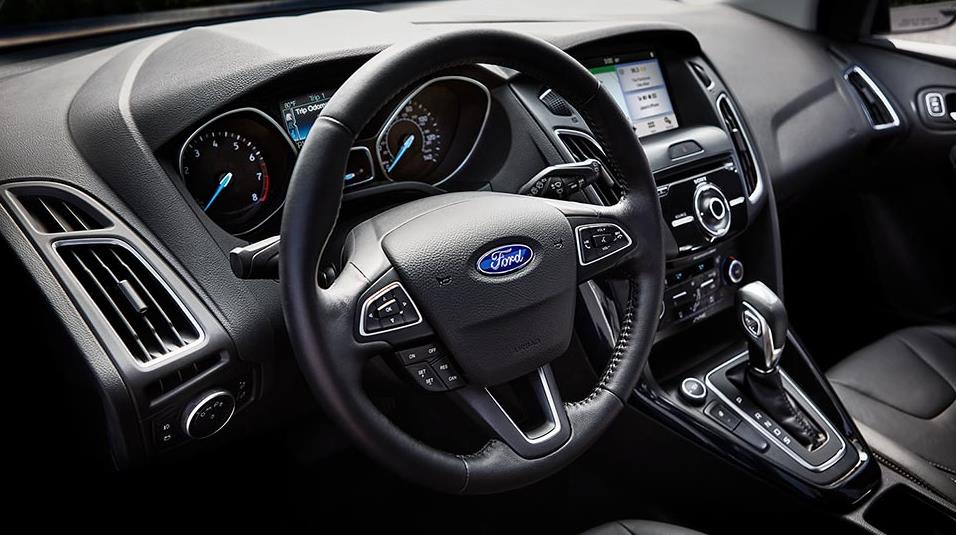 The base model of the Ford Focus is powered by a 2.0-liter, four-cylinder engine producing 160 horsepower and 146 pound-feet of torque. Averaging a combined fuel economy of 31 miles per gallon, the power of the engine is not too shabby. Looking for a little more boost? Try upgrading to the turbocharged "EcoBoost" that is powered by a 1.0-liter, three-cylinder engine. Outputting 123 horsepower and 148 pound-feet of torque, the engine can accelerate from zero to 60 mph in just 9.7 seconds. The Ford Focus Electric has a 107-kilowatt electric drive motor that draws power from a 23kWh lithium-ion battery pack. The EPA gives the Focus Electric an energy consumption estimate of 32 KWH per 100 miles and projects a driving range of 76 miles. Additionally, the Electric model can be charged at home with a handy 240-volt home charger.
Ford is dedicated to keeping you and your loved ones safe while traveling through life. Standard safety features on the Ford Focus include: antilock brakes, stability and traction control, a driver knee airbag, front side airbags and side curtain airbags, and Ford Sync. In government crash tests, the Focus earned an overall rating of five stars for total frontal-impact protection and five stars for total side-impact protection.
Bursting with innovation and unique styling, the Ford Focus is superior in features and design. The five passenger automobile is more than just a compact car-it's a new way of transportation.