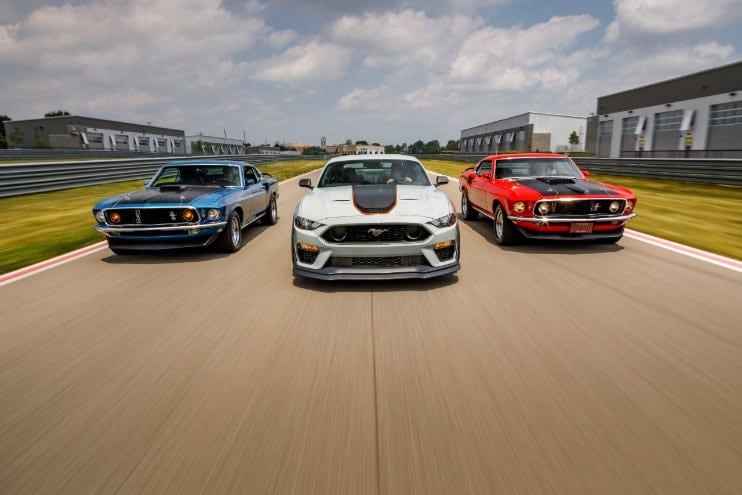 Brace yourself for 2021—the Mustang Mach 1 is roaring back into the Mustang lineup as the most track-capable 5.0 Liter V8 pony yet.
The original Mach 1 was delivered by Ford in 1969, setting 295 speed and endurance records in its first model year. After a 17-year hiatus, the all-new Mach 1 is returning to showcase Ford's serious quest for excellence.
This vehicle is a modern pinnacle of performance, handling and style.
· Muscle
The all-new Mach 1 wears a host of Ford Performance parts and a uniquely crafted front end for aerodynamic efficiency, making it the most track-capable 5.0-liter Mustang ever.
Its power runs from a specially calibrated 5.0 Liter V8 engine that has a projected 480 horsepower at 7,000 rpm and 420 lb-ft of torque at 4,600 rpm.
The Mach 1's capability on and off the track is impeccable with its six-speed manual transmission from Ford performance and an available 10-speed automatic transmission. Not to mention an available Handling package that delivers even more on-track.
To further improve track endurance, two side heat exchangers have been added – one to cool engine oil, the other transmission oil. The rear axle cooling system and lower diffuser from the Shelby GT500 are also quality components.
· Handling
For improved ride and handling, Mach 1 also boasts the latest MagneRide calibration, stiffer steering I-shaft, stiffer sway bars and front springs, and a brake booster from the Mustang GT Performance Pack Level 2, among exciting components.
· Style
The all-new Mach 1's design celebrates Mach 1's heritage dating back more than five decades. It has low-gloss magnetic and black accents, and hood and side-body stripes with reflective surfaces. Completing its signature look includes a new front fascia and grilles for improved aerodynamics and cooling.


Take Ford's chief operating officer Jim Farley's words for it: "Bold styling, great acceleration and speed – Mach 1 says it all. This is one of those special Mustangs that truly brings a smile to the faces of our owners, enthusiasts and fans – including me – so there's no better time to bring back Mustang Mach 1 and have it go global, too."
In the new golden age of power, the all-new Mustang Mach 1 is definitely a powerful choice in the lineup of the world's best-selling sports car you wouldn't want to miss.
The limited-edition Mustang Mach 1 will arrive in the U.S. and Canada in the spring of 2021.