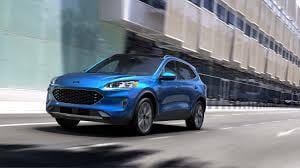 The 2020 Ford Escape is one of the best compact SUV's on the market and is sure to deliver a wide array of driving delights. Rated number four, and making it into the top third of the Compact SUV category by U.S. News, this capable vehicle has a well-rounded appeal that is well worth the price. With the perfect balance between power and comfort, this vehicle offers a smooth ride with better handling than most of its competitors.

With an entirely new powertrain lineup, the 2020 release is no small one for the Ford Escape. Stepping up its standard horsepower, the 2020 Escape offers a standard 180-horsepower turbocharged three-cylinder engine, which is a step up from the 2019 Escape's standard of 168-horsepower. The vehicle additionally has an available 250-horsepower turbo-four-cylinder. Even so, the 2020 model has been completely redesigned for more than its powertrain. Several driver assistance features are now standard. These include blind-spot monitoring, driver drowsiness monitoring, forward collision warning, and automatic emergency braking. As drivers become more distracted, the 2020 Escape has upped its safety system so that you are taken care of on the road.

Aside from safety, agility and enjoyability are some of the factors that separate the 2020 Ford Escape from its rivals. Simply put, this compact SUV is fun to drive. The vehicular agility of the Escape is better than most and will leave you feeling in control and excited on the road. Furthermore, the SUV offers the option of an impeccable infotainment system.

As a compact SUV, one potential worry for some is minimized spacing. Ford Escape drivers fear not! This vehicle can comfortably seat five, and makes every type of drive a breeze. The Escape also offers more cargo space than several competitors. With 33.5 cubic feet of cargo space behind the rear seats and 65.4 cubes with the rear seats folded down, limited space is not a concern, even on longer trips.

With its stellar predicted reliability rating and a grand selection of standard safety features, the 2020 Ford Escape is an above class average compact SUV that will meet and exceed your driving needs.