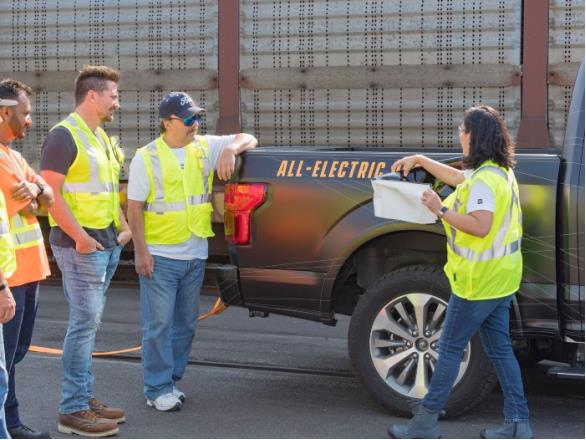 It's been one year since Ford celebrated 100 years of manufacturing leadership at the Rouge plant — the plant that revolutionized American manufacturing. As technology advances and consumer needs are growing and ever-changing, Ford is working hard to find new ways to improve their trucks. On the day of the Rouge plant's anniversary celebration, Bill Ford announced an all-electric F-150 would be added to the F-Series lineup.
For 42 straight years, the F-Series has been the best-selling truck in America. The electric F-150 prototype was designed on a foundation of toughness that plays to Ford's strengths. Using the unique qualities of electric vehicles, the prototype delivers what customers want from Ford trucks along with new capabilities never expected.
The engineering teams at Ford worked feverishly to demonstrate Ford's dedication to delivering trucks that meet a new set of needs for customers in this era of smart vehicles. With cameras rolling, live tests for the prototype were conducted in front of real truck owners to gauge capability and performance based on what customers love and value. During one capability test, the electric F-150 prototype pulled over 1.25 million pounds of trucks and rail cars to demonstrate a new kind of Built Ford Tough.


Ford is committed to the future of electric vehicles. There are already plans to reveal a fully electric, Mustang-inspired SUV, and Ford has previously announced an F-150 hybrid that can act as a mobile generator. But it doesn't stop there. Countless hours of research and testing have gone into designing charging plans to help drivers get where they need to go with ease.
With an electrification plan underway, Ford is determined to remain the clear leader in trucks. A strong commitment and drive to deliver what customers need in an ever-changing world has set the wheels in motion to provide the best electric experience possible for truck owners all over the country.