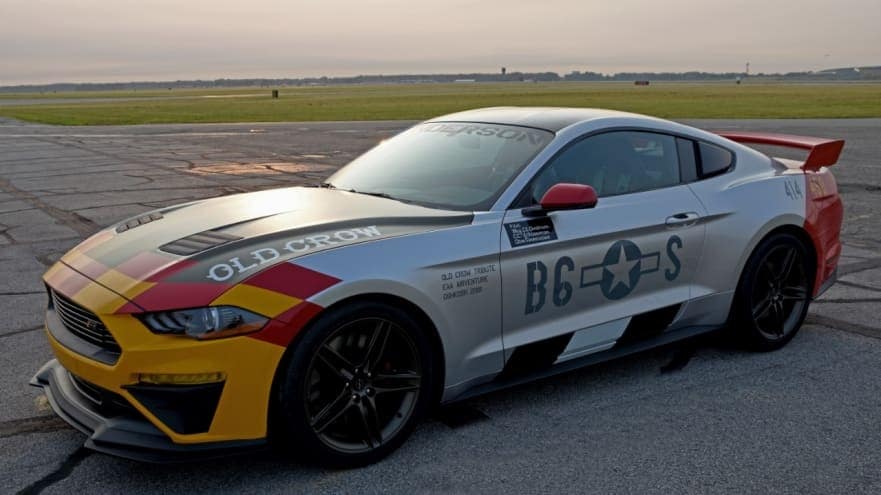 This past July, Ford, along with Roush Performance, presented a personalized Mustang GT at the Experimental Aircraft Association during a charity collaboration project. U.S. Army Air Force Col., and World War II triple ace pilot, Bud Anderson, influenced this one-of-a-kind vehicle.
Anderson flew P-51 Mustang fighter planes during World War II in combat which were named, "Old Crow." That's where this original Mustang GT got its name— to show honor to Anderson.
This customized Ford was the 12th one auctioned at The Gathering throughout the Experimental Aircraft Association's annual AirVenture show. All donations will go toward the organization's youth and adult aviation programs, which will help strengthen future American pilots.
Customization surrounds the Mustang GT from the inside-out. Elevated performance capabilities were installed such as the Roush Performance TVS R2650 supercharger which connects a 5.0-liter V8 engine to 710 horsepower and 610 lb-ft of torque. Additional updates are a Roush Performance cold air induction system and X pipe along with a custom active exhaust system from Ford Performance.
The appearance of "Old Crow" mimics Col. Anderson's infamous P-51 Mustang fighter plane. The personalized paint scheme includes an original Roush grille with the P-51 Mustang badge which embellishes the front. The hood is labeled, "Old Crow" and paired with a genuine Eighth Air Force emblem badge enhancing the decklid panel.
Roush has also provided 20-inch lightweight wheels which are covered in 275/35R Continental ExtremeContact sport tires.
Other exterior upgrades include a Ford Performance front racing spoiler, 2020 Mustang Shelby GT500 rear spoiler, individualized heat extractors located on the hood along with blue rainbow-tinted exhaust tips which reproduce exhaust on the P-51 Mustang planes.
The interior has just as much of a personal touch to it as well with air-craft inspired features such as military-themed green leather and canvas red shifter nob and door handles. The originality goes even farther with the "P-51" written on the passenger-side dashboard. The ideal goal is to give the drivers a feeling as if they are inside the fighter jet cockpit.
The EAA AirVenture was an ideal location for this unveiling because it attracts more than 600,000 aviation enthusiasts in OshKosh, Wisconsin every year. If you are interested in learning more about the "Old Crow" Mustang GT and Roush Performance's whole line of cars and products, check out www.roushperformance.com.