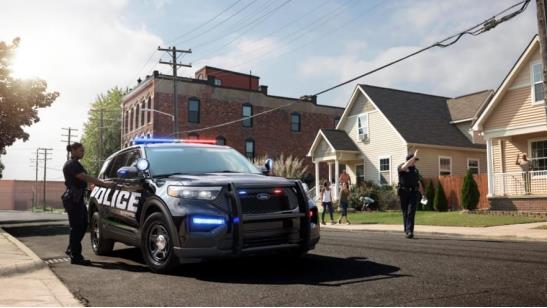 As the first-ever pursuit-rated utility vehicle with a standard hybrid engine, the 2020 Ford Police Interceptor Utility Hybrid offers a new future of police vehicles. The Ford Police Interceptor Utility is already a best-selling police vehicle, but this new hybrid model is already capturing the attention of law enforcement agencies across the country.
More than 2,600 units have been ordered for the Police Interceptor Utility Hybrid equipped with the standard 3.3-liter hybrid engine. Agencies are committed to adding these hybrids to their law enforcement fleets, representing more than 17 percent of the 15,000-plus order for the 2020 Police Interceptor Utility.
Besides the standard hybrid engine, two conventional gas engine options are available, including a 3.0-liter EcoBoost V6 and a 3.3-liter V6 with flex-fuel capability. As the first-ever pursuit-rated hybrid SUV, the Police Interceptor hybrid gives law enforcement a new option that hasn't existed until now.
The new 2020 Police Interceptor Utility Hybrid has an EPA-estimated rating of 23 mpg city, 24 mpg highway, and 24 mpg combined. With this powerful hybrid, it's estimated that police departments could save between $3,500 and $5,700 per vehicle annually in fuel costs compared to the current Police Interceptor Utility.
Hybrid technology can potentially lead to better fuel savings. During times when police vehicles are stationary, conventional gasoline engines must run continuously to power the emergency lights, radios, computers, and other electrical equipment whereas a hybrid engine has the ability to shut off for extended periods of time — relying on a lithium-ion hybrid battery to power equipment and reduce fuel usage.
To increase officer safety, the all-new Police Interceptor Utility Hybrid features several advanced innovations. Precise engineering helped it withstand Ford's rigorous 75-mph rear-impact crash test — the federal standard is 50mph.
Police Perimeter Alert monitors a 270-degree area around the vehicle and analyzes movement up to 80 feet away. If potentially threatening behavior is detected, the system turns on the rear camera, rolls up the windows, locks the doors, and sounds a chime to alert the officer.
All Police Interceptor Utility and Police Responder Hybrid sedans are equipped with a Ford modem and two years of Ford Telematics service that allows fleet managers to receive timely feedback on vehicle usage and location.
Every Police Interceptor Utility Hybrid provides enhanced police durability from improved cooling systems to a specially tuned braking system. Special police-purposed steel wheels, hubcaps, and tires were designed specifically to withstand the rigors of a chase. Officers will have no trouble maneuvering the Interceptor Utility since the vehicle can withstand an eight-inch curb impact, median crossing, railroad crossing at 30 mph, and water fording from 18 inches at 15 mph to 10 inches at 40 mph.
Heavy-duty cloth front seats provide extra comfort and allow officers to easily enter and exit the vehicle, while the rear features vinyl seats and vinyl flooring for quick and easy cleaning. For extra safety, anti-stab plates line the back of the front seats to help protect officers from potential threats and injuries.