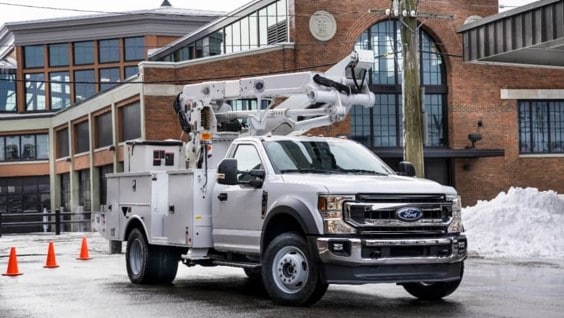 The Ford commercial lineup comes with many new updates, including Ford Telematics, Data Services, Ford Co-Pilot360 technologies, 4G LTE Wi-Fi, and a 7.3-liter V8 engine.

Ford Telematics improves the function of your vehicle while the Ford Data Services allows you access to your vehicle's data. The Ford Co-Pilot is technology meant to help the driver. Including technology that provides an eye for your blind spot, automatic emergency brakes, a rearview camera, and more.
The new durable engine, made by Ford, is made with a cast-iron block, forged steel crankshaft and oil jets to cool the pistons. The engine provides 300 lb-ft of torque and is made with fewer parts, adding to its strength and durability. Ford makes their own engines, which in turn makes things easier for the customer as far as services and maintenance.

Leading the lineup is the F-600 Super Duty: this truck comes with the quality of a Class 6 truck and the size of the Class 5 Super Duty package. The F-600 can carry up to 22,000 lb and has 19.5-inch tires to help hold the weight.

The 2020 Ford Transit is always ready to go with all-wheel drive, and two engines with a 12-speed transmission. Following the Ford Transit are the F-650 and F-750: these two trucks offer the choice of the 7.3-liter gas engine and 6.7-liter Power Stroke V8 diesel engines. The instrument panel has a new standard stereo radio with Bluetooth and USB ports, wheel and cluster, and steering column.

The E-Series is modernized with engine calibrations for the 7.3-liter V8 engine and can carry up to 14,500 lb. The vehicle will be equipped with the AM/FM stereo radio and an instrumental panel including a new steering wheel and cluster.

The Ford F-53 stripped chassis will come with new technology to improve the steering and gravitation on higher GVWR models.
Don't worry, you don't have long to wait — the F-600 will be available to order early 2020.