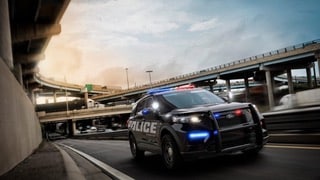 Since Ford already is the police vehicle brand that practically two-thirds of officers use, they believe they have found a way to continue this legacy by creating an improved vehicle that is full of safety features and save multiple departments and taxpayers money.
Ford plans on producing advanced hybrid adaptations to its prominent Police Interceptor Utility and making it available in 2019 with a lineup including the Police Responder Hybrid Sedan, F-150 Police Responder, Expedition SSV, F-150 SSV, Transit PTV, and SSV Plug-In Hybrid Sedan.
This hybrid technology is perfect for law enforcement, and taxpayers, because of its prospective for heavy idle-time fuel and cost savings. A majority of energy is used while police vehicles are stationary because a conventional gasoline engine is consistently running to power emergency lighting, radios, computers, and other onboard electrical equipment.
The hybrid version of the Police Interceptor Hybrid's powertrain will enable the engine to turn off throughout long periods and power the electrical equipment through its lithium-ion hybrid battery which will assist to acquire notable reductions in fuel usage and CO2 emissions.
"Our Police Interceptor Utility's standard hybrid powertrain provides the potential for significant fuel savings with improved performance and no tradeoffs in safety or interior passenger or cargo space," said Stephen Tyler, Ford police brand marketing manager. "It's a win-win-win formula for law enforcement."
Various vast improvements arise in the all-new 2020 Police Interceptor Utility hybrid such as a projected EPA-estimated rating of 24 mpg altogether which is a 41 percent improvement over the present Police Interceptor Utility that has a 3.7 -liter gas engine. The first pursuit-rated hybrid police utility vehicle has high expectations of saving around $3,500 and $5,700 in annual fuel costs compared to the current Police Interceptor Utility.
The all-new Police Interceptor Utility has advanced technology that will keep officers safe and introduces multiple innovations such as the factory-installed Police Perimeter Alert which uses sensors to monitor an exact 270-degree area around the vehicle, and driver-assist technology which include Pre-Collision Assist with automatic emergency braking.
More safety features that are optional include Rear Camera On-Demand, which provides officers to see what's behind the vehicle by just touching a button, and Anti-Stabs plates installed in the rear of the front seat backs which help protect officers from any potential threats.
Officers have three different powertrain options for the new Police Interceptor Utility to choose from which include either a standard 3.3-liter hybrid plus available 3.0-liter EcoBoost® and 3.3-liter V6 engines. Each of these engines is energized by a new 10-speed automatic transmission and feature standard full-time Intelligent All-Wheel Drive and deep snow/sand traction control mode.
The Ford Police Interceptors are tested for superior police durability and are currently the only vehicles in the world engineered to meet Ford's strict 75-mph rear-impact crash standard.
Ford proceeds its almost 70-year partnership with law enforcement vehicles with this all-new Police Interceptor Utility, and improving officer's safety and fleet management.