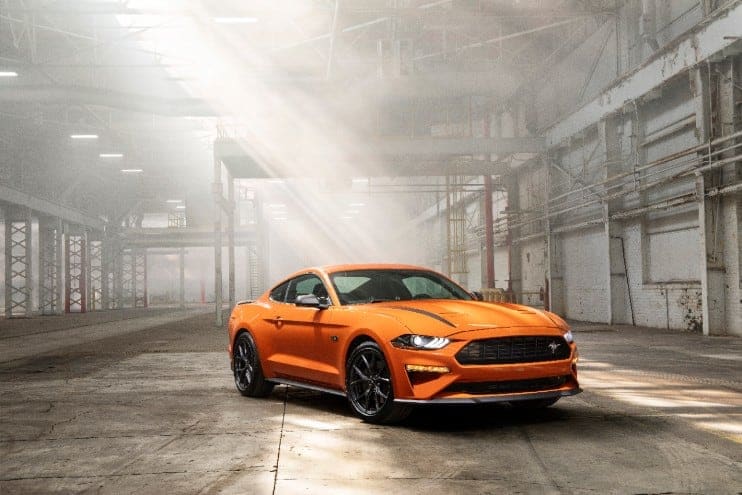 Not long ago, V8 Mustangs were generating 300 horsepower. Well, how would you like to drive a car that gets more power with half the cylinders? Yes, that's right… half the cylinders.
Initially a passion project not having to do with the iconic car, Mustang's team members soon found themselves traveling to the home of the Ford Performance-tuned 2.3-liter engine—Valencia, Spain—to convince plant management to create a new variant of the turbocharged four-cylinder specifically for Mustang.
Designed to run 0-60 in four seconds, and with top speed increasing to 155 mph, Ford's new 2.3L High Performance Package for the entry-level Mustang Ecoboost is the most powerful four-cylinder sports car offered by an American automaker, and as synchronicity will have it, the enhancement of the company's performance reach comes just in time for Mustang's 55th anniversary.
Available this fall, the Mustang EcoBoost package was developed to feel both strengthened and relaxed on craggy coastlines and rugged terrain thanks to its Mustang GT brakes, performance tires, and overall, its framework and aerodynamics adapted from the Mustang GT performance package
Additionally, with an aggressive road holding stance, near-balanced weight distribution, and completely independent suspension, the High Performance Package is loaded with enthusiast hardware, and a new EcoBoost Handling Package is also available exclusively on the 2020 Mustang EcoBoost Fastback coupe with either a 6-speed manual or a 10-speed automatic transmission. This adds semi-metallic brakes, sport-tuned MagneRide adaptive dampers, wider wheels (with 265/40R tires), and heftier stabilizer bars.
Also note: FordPass Connect now comes standard. Using the Ford app, you can locate your vehicle, lock and unlock it, check fuel and oil levels, and receive maintenance alerts.
All in all, these are exciting times for Ford and more specifically, Mustang. Be sure to check out the 2020 Mustang, with a starting MSRP of $28,000 with new smart technology and colors this fall!