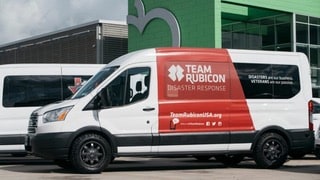 Ford Motor Company created the Ford Disaster Relief Mobility Challenge in order to give organizations the chance to design and win a Ford Transit customized for their individual community necessities. Ford is continuing their commitment to nonprofits centered on disaster relief and recovery.

This past December, the Ford Fund announced four recipients that won the Ford Disaster Relief Mobility Challenge. In order to enter the competition, the nonprofit organization had to tell Ford how they would design a Ford Transit that was suitable for a response to a specific disaster occurring in their community. The 2018 winners were: Empact Northwest, Mercy Chefs, Second Harvest Food Bank of Greater New Orleans and Acadiana, and The Salvation Army Team Emergency Radio Network. The winners were chosen based on their distinctive development of the Transit for disaster relief work, capability to promptly distribute the vehicle across the company, and the planned use for the transit when there isn't a natural disaster.

Empact Northwest, which is located in Kingston, Washington will be receiving a transit equipped with communications equipment, emergency lighting, swift water, flood, and other rescue gear along with the option to transport a rescue boat when needed. Empact will use the vehicle for first responder training and community education when not being used for disaster relief purposes.

Another recipient, Mercy Chefs, in Portsmouth, Virginia will be using their transit as a food delivery and distribution van, which will double the organization's capacity and permit them to serve up to 20,000 people a day. When not used in a disaster relief situation, the van will be used to enter hard-to-reach areas and deliver meals from local community kitchens.

The third winner, Second Harvest Food Bank of Greater New Orleans and Acadiana will turn their emergency vehicle into a kitchen with a service window and awning, which will allow them to reheat and serve meals to the community. Along with the kitchen, the vehicle will be furnished with communication tools, such as two-way radios, antenna, and a satellite phone with an outside speaker. During regular hours, the transit will provide food insecurity to children and senior citizens.

The last recipient of the bunch, The Salvation Army Team Emergency Radio Network (SATERN), which is located in Kansas City, Missouri will be using their van primarily for communication purposes, and when not being used during disaster relief, the vehicle will give communication support to other nonprofits.

Ford will collaborate with the chosen organizations over the next couple of months in order to guarantee that each vehicle is ready to take action when natural disasters occur.