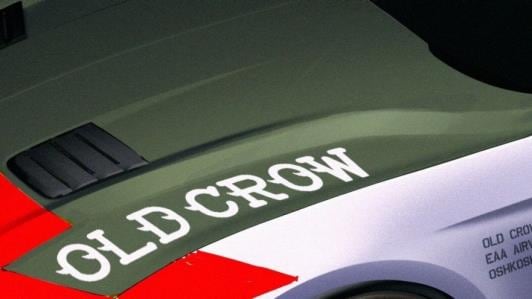 In honor of World War II pilot Colonel Bud Anderson, Ford and Roush Performance designed the new "Old Crow" Ford Mustang GT, which was inspired by the airplanes Anderson flew during missions.

During World War II, Anderson flew two combat tours and 116 missions in his P-51 Mustang he nicknamed "Old Crow." He provided aerial support during D-Day, flying over six continuous hours that day and never took a hit from enemy fire.

Anderson has received more than 25 decorations during his service, earning the Distinguished Flying Cross, the Bronze Star, and the Air Medal. He flew with the 363rd Fighter Squadron of the 357th Fighter Group, and with over 16 aerial victories, Anderson is recognized as the third leading flying ace.

The P-51 Mustang was first produced by North American Aviation in 1940. Variations of this single seat, single engine fighter were used in WWII and the Korean War to specialize in long range, high altitude escorts.

As a longtime friend of Anderson's, Roush restored a vintage P-51 Mustang decorated with "Old Crow" badging to honor Anderson and his time in the service.

Marking the 75th anniversary of the Allied invasion of Normandy, Roush Performance built the "Old Crow" Ford Mustang GT to be auctioned at the Experimental Aircraft Association's annual auction this year. All proceeds from the auction will go towards the Experimental Aircraft Association's Aviation Foundation to help educate future pilots.

"This year's design is especially fitting the the 75-year commemoration of D-Day and the special place we reserve for heroes like Col. Anderson and countless others who demonstrated unparalleled valor and sacrifice," said Craig Metros, Ford design director. "It's an annual highlight for many on the Ford design team to pay homage to our war heroes by creating a custom tribute vehicle to support the next generation of aviators."

For 21 years, Ford has supported the Experimental Aircraft Association's AirVenture. Ford has built and designed 11 custom vehicles including the 2018 Eagle Squadron Mustang, the 2016 "Ole Yeller" Mustang, and the 2015 Mustang Apollo Edition. As of now, Ford has helped raise more than $3.5 million, with the 2008 Mustang AVSR selling for the highest price of $500,000.

To keep the "Old Crow" Ford Mustang GT as authentic as possible, Ford and Roush Performance designed it with a similar paint scheme and badging like the P-51 Mustangs Anderson flew. Members of the Ford design team, Edsel Ford II, Jack Roush, and Anderson have signed the Mustang GT to increase authenticity. The "Old Crow" Ford houses a supercharger that creates over 700+ horsepower as well as additional Ford Performance parts.

The Experimental Aircraft Association's auction is open to the public, and interested parties can bid in person or online.