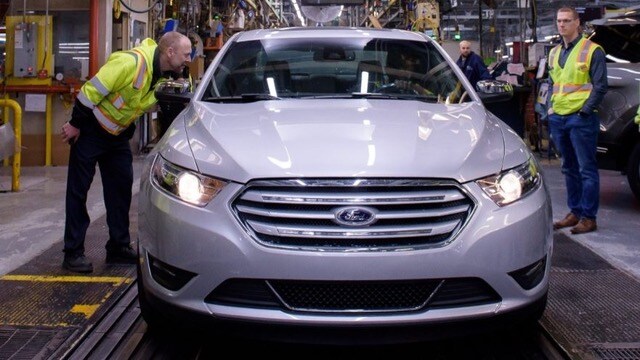 This past March, the Ford Taurus made its final good-bye as it drove off the line at Chicago Assembly Plant, ending its U.S. production, and well-known model name.
Over 8 million Ford Taurus passenger vehicles were created at Ford's Chicago Assembly Plant throughout 34 years of continuous production.
The Taurus model was first displayed in 1985 at the Los Angeles Auto Show and portrayed the current engineering and designs that Ford produced to reach the customer's needs. Its smooth appearance stood out from the usual boxy sedan figures which set new standards in passenger vehicles.
Inside the 1985 model is its 140-horsepower 3.0-liter V6 engine which featured multi-port fuel injection. Advancements continue in the 1989 model which came furnished with 220-horsepower, high-performance V6 engine, and by 1992 the Ford Taurus had become America's top-selling vehicle.
In 1998, Taurus became affiliated with NASCAR and went on to be the vehicle of choice for multiple race teams and distributed various championships for NASCAR and Ford Motor Company.
In 2006, the Taurus nameplate came to an end but was soon brought back to life again as an all-new vehicle in 2008.
While Taurus manufacturing is coming to an end, more jobs are starting to begin. Ford will be investing $1 billion into its Chicago Assembly Plant, Chicago Stamping Plant, along with adding on 500 job openings to increase volume to construct the all-new 2020 Ford Explorer and Ford Police Interceptor Utility, which will keep the Taurus's history alive, along with the all-new Lincoln Aviator as well.
Ford plans on restoring 75 percent of its U.S. lineup by the end of 2020 with models such as the Ford Escape, Explorer and F-150, focusing their strengths on trucks, utilities, commercial and performance vehicles, while also investing in new momentum and technology.
Similar to how the Taurus was innovated to meet customer's liking, Ford is also increasing its lineup with new and past nameplates customized for today's customers, which will incorporate the all-new Ranger, all-new Bronco, and more.