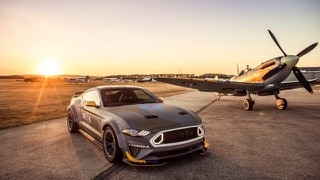 This past July, the one, and only Eagle Squadron Mustang GT made its debut celebrating the 100th anniversary of the Royal Air Force at this year's Experimental Aircraft Association's The Gathering fundraiser.
This sporty vehicle was created by Ford performance and drifting champ Vaughn Gittin Jr. and has also been put up for auction following the event, with all benefits going toward the Experimental Aircraft Association's youth aviation education programs. To date, Ford has collected more than $3 million for that organization, and this year marks the 20th year Ford has supported the Experimental Aircraft Association AirVenture event.
This year's design was influenced by the Eagle Squadron which is a group of U.S. volunteer pilots who have flown combat missions next to the Royal Air Force over Europe from British airfields near Goodwood before the U.S. entered World War II. The Eagle Squadron was presented in a display at the Ford booth during the event.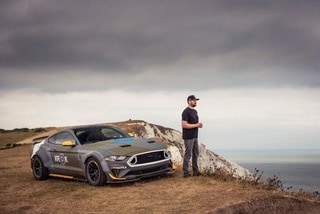 "Supporting young pilots through the Experimental Aircraft Association's fund-raising auction reflects Ford's aviation history, tracing back to the company's early days and the arsenal of democracy during World War II," said Darrell Behmer, Ford Mustang design chief. "The Eagle Squadron Mustang GT build with Vaughn and the Ford design team is a great way to honor our heroes and keep the spirit of aviation alive for the next generation of American pilots."
The visually appealing and dynamic Eagle Squadron Mustang GT resembles the original Eagle Squadron Spitfire aircraft with painted camouflaged designs. Other exterior features include Gittin's RTR Mustang carbon fiber wide-body kit, and includes front chin spoiler, upper grille with integrated lighting, and a Gurney lip which is added to the Performance Pack rear spoiler.
This powerful vehicle is energized by a Ford Performance supercharger kit which assists the Ford 5.0-liter V8 to churn out 700 horsepower and 610 lb.-ft. of torque at 12 psi of boost on 93-octane fuel.
Also included within this Mustang is an RTR Tactical Performance Suspension Package which involves in-car adjustable MagneRide dampers, Ford Performance lowering springs and RTR adjustable sway bars.
The inside of the vehicle also portrays similarities of the original Royal Air Force fighter jet. This Mustang is filled with custom leather interior such as Recaro racing seats with the embroidered Eagle Squadron logo. The Eagle Squadron logo is also displayed on the shift knob, and a one-of-one hand-engraved badge made from genuine Spitfire aluminum enhance the dashboard.
"Beyond its menacing looks, this powerful and hungry beast mimics the brute force and maneuverability of an original Royal Air Force fighter jet," said Gittin.
The Gathering's fundraiser event is an annual event which is hosted at the Experimental Aircraft Association Aviation Museum. All proceeds from this event go towards supporting the museum and youth aviation programs.