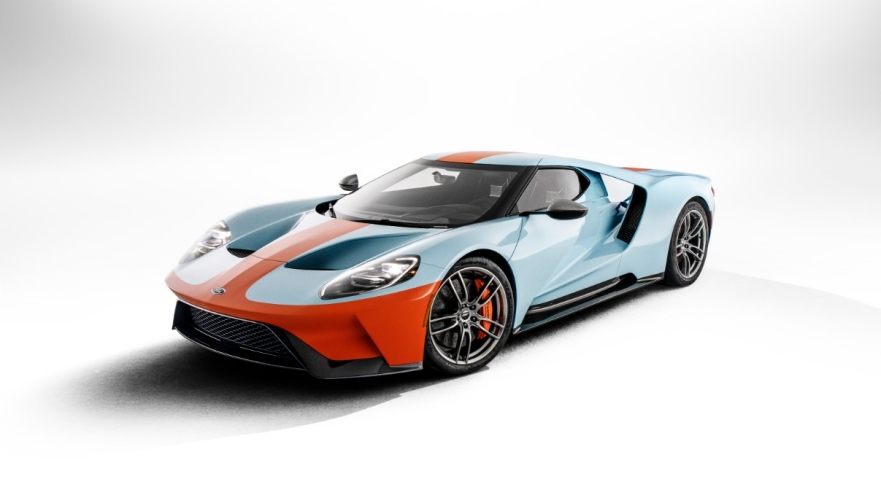 In 1968, the Ford GT40 became a global sensation after it won at the 24 Hours of Le Mans. The same car went on to win the 1969 Le Mans. This was the first time a single car won Le Mans back-to-back. To celebrate the 50th anniversary of its win, Ford has released the new 2019 Ford GT Heritage, which features the legendary Gulf Oil's blue and orange paint scheme.
The GT Heritage has a 3.5-liter twin-turbocharged V6 that produces 647 horsepower. It houses a seven-speed dual-clutch transmission which channels 550 pound-feet of torque to the rear wheels. Its aerodynamic design generates enough downforce to help keep it on the road—while making sure the car can still reach high speeds.
An optional package is available which provides exposed carbon fiber accents for the interior and exterior of the GT Heritage. For the 2019 model, the No. 9 graphics are available for the hood and doors, and for the 2020 model, the No. 6 graphics are available to honor the same car that won Le Mans in 1969 with a different number.
The seats, instrument panel, pillars, headliner, and steering wheel are wrapped in ebony Alcantara. Both the seats and steering wheel are stitched with contrasting blue and orange. A new seat embossment is featured honoring the original 1968 Le Mans-winning car as well as clear and polished anodized paddle shifters.
The interior features high-gloss dark stainless appliqués which accent the door register bezels, instrument panel, and x-brace. Like previous heritage models, the GT has a unique serialized identification plate, and the door sills, air register pods, and center console are fitted with exposed matte carbon fiber.
The 2019 Ford GT Heritage edition has limited availability, so if you're interested in owning one, an application process is expected to reopen later this year.