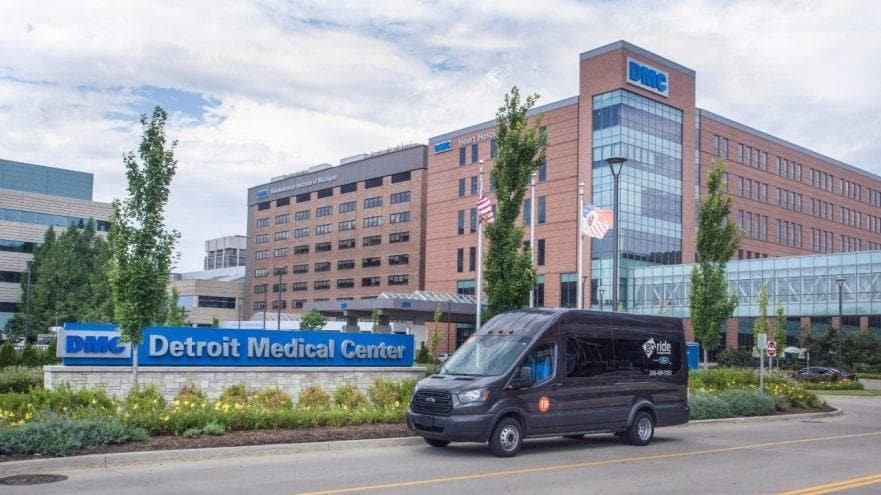 The Detroit Medical Center network has teamed up with Ford Motor Company to offer patients in the Metro Detroit area an affordable, non-emergency medical transportation system called GoRide. GoRide's main goal is to provide a safe method of transportation that patients can consistently rely on.
As of right now, patients at DMC's Rehabilitation Institute of Michigan, Children's Hospital of Michigan, Detroit Receiving Hospital, Sinai-Grace Hospital, Huron Valley-Sinai Hospital, DMC Heart Hospital, Harper University Hospital, and Hutzel Women's Hospital can use Ford's GoRide service. GoRide hopes to expand their service to other areas within Michigan soon.
Ford GoRide's drivers are professionally trained, receiving extensive training in aiding passengers to make the ride safe and providing the highest standards of safety for passengers in wheelchairs. GoRide drivers also know how to perform CPR and provide door-through-door service, making sure patients arrive at their appointments.
The Ford Transit vans are designed to provide a safe and reliable method of transportation for people with mobility challenges. With its transportation, GoRide is helping DMC to improve access to its medical facilities. GoRide has a 97 percent on-time pick-up and delivery average, providing a reliable transportation method for patients in need.
Ford GoRide is available on Monday through Saturday from 5:00 a.m. to 7:00 p.m. for a base fare of $35 each way. GoRide offers a shared ride discount of $12.50 and will pool ride automatically. Also, there is a monthly billing option that is available with a service agreement.
It's easy to book a ride with Ford GoRide. Most rides are scheduled by DMC-based schedulers working with GoRide dispatchers, but patients with appointments at DMC medical facilities or approved physician partners can schedule their own transportation over the phone or on the Ford GoRide online site at www.goride.com/health.
The Detroit Medical Center network and Ford GoRide have revolutionized the way patients at DMC medical facilities can get to their appointments. Many Americans miss their appointments due to a lack of transportation, and GoRide is hoping to aid patients so they get the medical care they need.