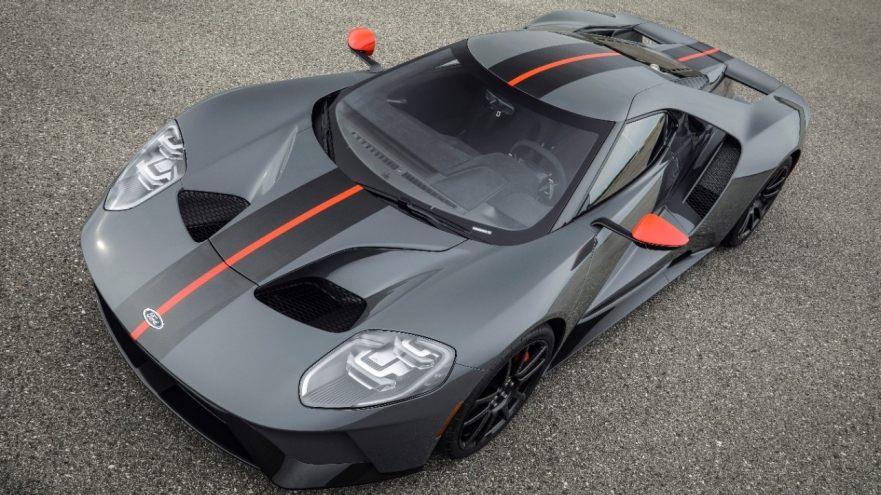 The new 2019 Ford GT Carbon Series is the lightest car in Ford's GT lineup—dropping nearly 40 pounds with special innovations to reduce weight. The Carbon Series features carbon fiber wheels, titanium lug nuts, a titanium exhaust, and a polycarbonate engine cover with additional venting.
This model features more visible carbon fiber and has four optional accent colors buyers can choose from: orange, red, silver, or blue. These accents line the mirror caps, calipers, and cut through the middle of the dual stripes running down the center of the car. The new Carbon Series also features unique silver stitching on the seat and steering wheel.
The exterior has two exposed carbon fiber stripes with matching A-pillars, lower body panels, and gloss carbon fiber wheels. The interior showcases more exposed carbon fiber with matte carbon fiber sills, center console, and air register pods as well as clear anodized paddle shifters and a unique badge on the instrument panel.
"The Ford GT Carbon Series stands out on the road with its striking carbon fiber-rich design and on the track with its athleticism," says Hermann Salenbauch, global director of Ford Performance. "It is yet another example of how we can bring to life our Le Mans-winning supercar in new and exciting ways so our customers can share in that magical legacy."
Even with the shift to a lighter vehicle, Ford engineers have added extra luxuries such as air conditioning, an infotainment system, and a radio so buyers can drive to and from the track in comfort.
Ford announced that the production of the new GT Carbon series would increase to 1,350 units, and approximately one Carbon Series can be built each week. Approved customer applicants can order their Carbon Series now, and Ford will re-open the final application process to prospective buyers in early November.