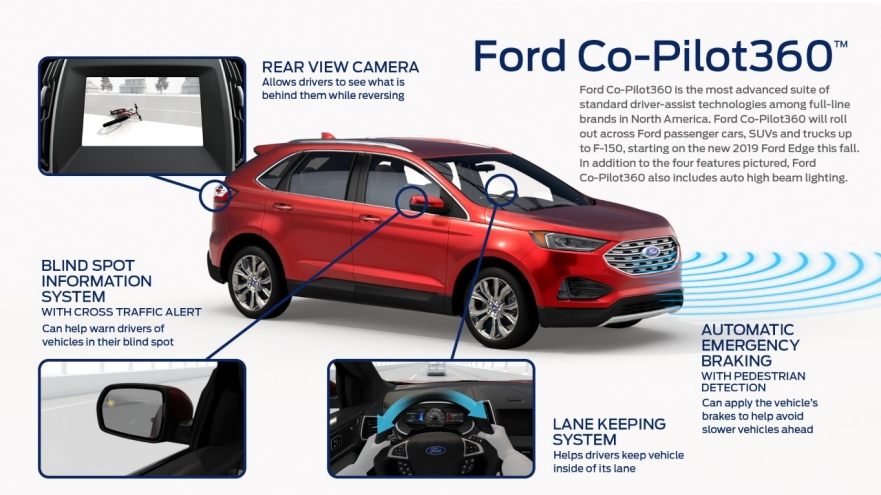 By Kelsey Blaylock
With all of the hustle and bustle of our world and crowded streets that potentially lead to wrecks, there is now driver-assisting technology to help drivers improve their safety. Ford has created the most advanced suite of standard driver-assist technologies, the Ford Co-Pilot360.

Installed in the Ford Co-Pilot 360 are safety features from standard automatic emergency braking, blind spot information system, lane keeping system, rear backup camera, and automatic high beam lighting.

Warning signs are given from light flashes associated with alerting sounds when a pedestrian or possible collision is detected. If the driver is unable to apply brakes in the situation, then the system will automatically apply brakes to the vehicle to avoid any accidents or damages.

Pre-collision assist with pedestrian detection will be standardized in 91 percent of North America's Ford vehicles in the next two years.

Two other systems included in the Ford Co-Pilot360, the blind spot information system and lane keeping system also notify drivers as needed. When another vehicle is approaching the blind spot, the driver is warned with an indicator light in the side-view mirror.

The lane keeping system has three purposes. One function is to warn drivers that their vehicle is straying towards lane markings by vibrating the steering wheel. Another function is to provide the driver with steering force to move the vehicle back to the center of the lane. The last function constantly detects the driver's alertness level and supplies the driver with visual and audio warning signs if necessary.
The Ford Co-Pilot360 is the only advanced driver-assisting technology with all of the elements mentioned above, and the added reverse camera and auto beam lights as well—and it is set to be installed in the new 2019 Ford Edge and Edge ST this fall.
Ford doesn't stop here, they plan on introducing automatic emergency braking for when vehicles are going in reverse to North America and the Asia Pacific, and are also investing $500 million over these next five years in order to develop and improve more driver-assist safety technologies.
"Though our vehicles today are safer than ever, drivers tell us they are still stressed about getting in a potential accident," said Jim Farley, Ford president, Global Markets. "That's one reason why we're making these must-have technologies accessible to millions of customers each year."