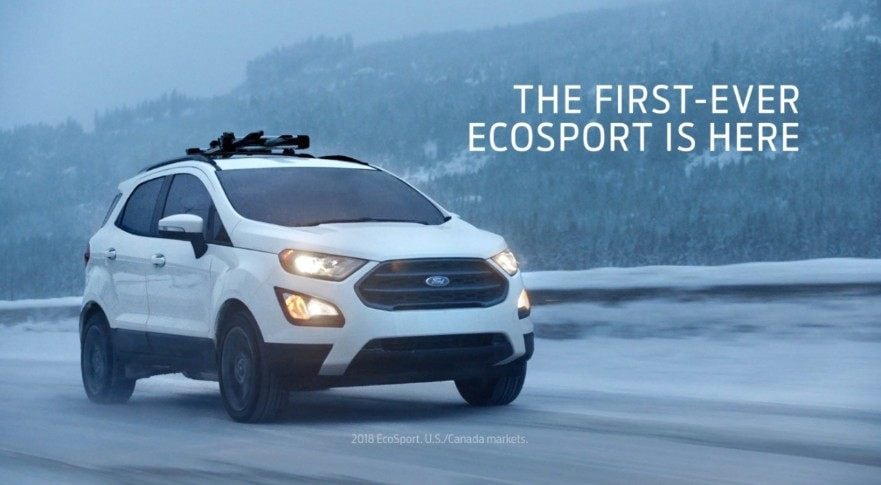 By Kelsey Blaylock
Ford customers range from being a young and growing family that needs big space, to the baby boomers wanting to downsize—and Ford has created SUV models for both of them.
Ford has had an increase in SUV sales, and in order to satisfy every customer's needs, they are adding two new SUV models - the spacious Expedition, and the smaller EcoSport.
The 2018 Expedition appeals to customers such as larger families with children, or just anyone that is looking for bigger area in their vehicle with its three-row seating, and technology packed attributes.
Ford advertises the Expedition with a campaign called "We the People," revealing real people throughout the United States from Utah's Junior Grizzlies hockey team, Bridge Lacrosse team, Cowgirls of Color, and Dallas Townview High School marching band. This campaign was to portray the emotional side to customers and highlight how a vehicle can bring family and friends closer together. The advertising for the Expedition is also an initiative to attract more African American men to the Ford brand.
The first-ever, 2018 EcoSport is here just in time for the older generations wanting to get rid of their extra unwanted space in vehicles. In the United States this subcompact SUV has increased rapidly in sales, and while the overall auto industry has decreased.
The campaign for the EcoSport is similar to the Expedition's one as well, showing real life people in real life situations. One of "first-ever" adventures reveals a mother and daughter going night skiing together for the first time. This advertising is Ford's initiative to steer more Hispanic women towards their brand.
Both of these campaigns have emotional responses, and stories that customers will be able to relate to. Ford is striving to make it more than just a vehicle, but a way to make more memories.
"The Ford SUV story is not so much about people conquering terrain, but rather people conquering life," said Michael O'Brien, Ford SUV marketing manager. "Both campaigns emphasize the people over the vehicle."
These advertisements have debuted through television and social media content such as Instagram, Facebook, and Twitter.
"They tie together the vehicles and the everyday unstoppable heroes who drive them, by empowering people to strive to achieve dreams they never thought were possible," said O'Brien.