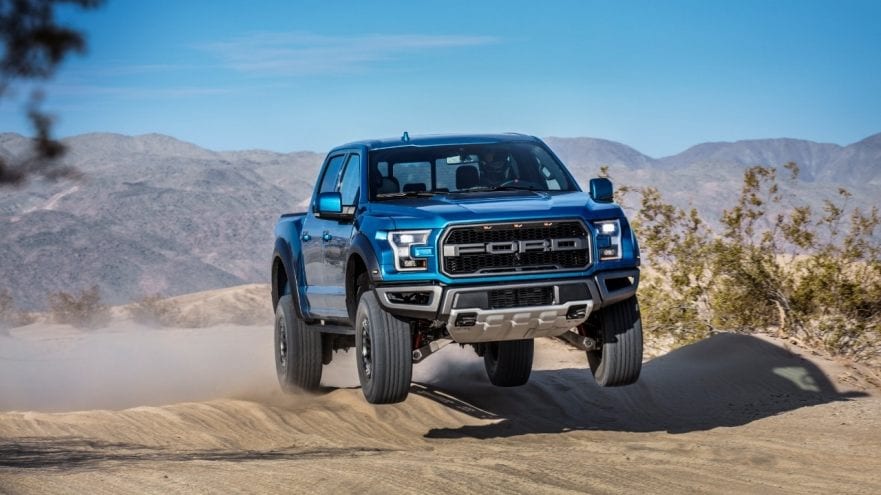 Ford has made some major improvements in the 2019 F-150 Raptor, the most advanced high-performance off-road pickup — ever. Improvements such as updated technology, sport seating, and a new control system that allows the driver to focus more on steering while riding through the rugged terrains.
The updated technology installed in the 2019 F-150 Raptor includes class-exclusive FOX 3.0 Internal Bypass shocks along with Live Valve technology which adjusts quickly and continuously to the rough terrains. Ford and FOX collaborated directly to create this technological advancement in order to maximize comfort, handling, and bottom-out resistance.
"By automatically varying compression rates, Raptor can now make the most of its suspension travel of 13 inches at the front and 13.9 inches at the rear," said Hermann Salenbauch, global director, Ford Performance vehicle programs. "The 2019 Raptor is not just more capable off-road. It's smarter."
Also, the Live Valve suspension technology has the ability to produce a smooth driving experience while increasing high-speed off-road performance. Sensors are triggered while the Raptor is in midair which helps shock performance provide an easier landing.
Another new aspect included in the F-150 Raptor is the Trail Control system. It applies a cruise-control effect by automatically adjusting power and braking which allows the driver to focus on steering over the terrains. The Trail Control system is only activated at low speeds from 1 mph to 20 mph and guides drivers through challenging conditions.
From driving on effortless trails to rocky hills, the Trail Control system just makes everything simpler. Along with automatically applying engine torque during steep obstacles, it also individually brakes the wheels in order for the Raptor to have a smooth landing once reaching the other side.
Ford has installed upgraded seating in the Raptor with all-new Recaro sport seats that provide major support and plentiful reinforcement from its seat back and cushion. The stylish seat design includes blue Alcantara inserts and accent stitching influenced by the Light Speed-colored interior of the Ford GT supercar.
The overall enhancements are key aspects that have made the 2019 F-150 Raptor an exemplary off-road truck with features that have made it tougher, smarter, and more efficient.
"Raptor's success is rooted in its incredible suspension, superb vehicle control and the confidence the truck instills in its owners," said Salenbauch. "Upgrades to the 2019 F-150 Raptor have improved all three to new levels that the competition will have to benchmark – again."
The 2019 F-150 Raptor will be made available towards the end of 2018 with optional exterior paint colors such as Agate Black, Ford Performance Blue, and Velocity Blue.