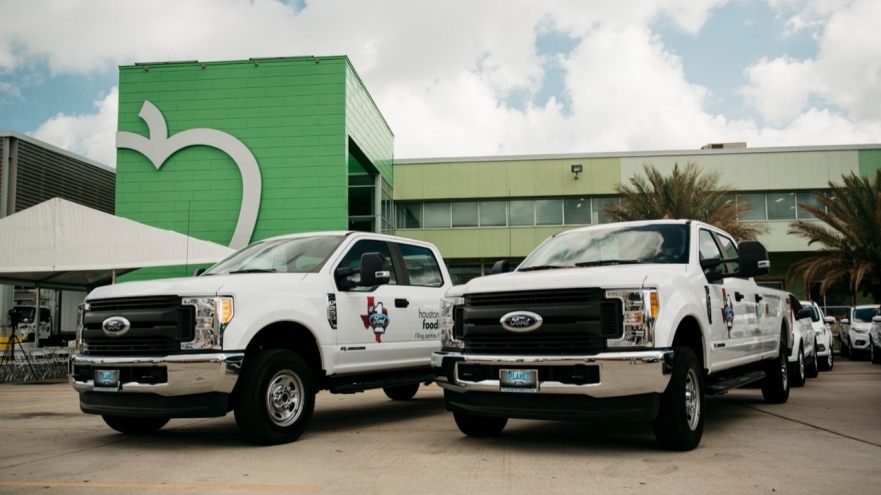 On May 11th, Ford Motor Company revealed their ongoing support to the southeast Texas area through the "Texas Is Family" event. Ford has been collecting donations and collaborating with local nonprofits to improve the community since Hurricane Harvey recovery efforts began last August.

Ford has donated 38 vehicles to eight local nonprofit organizations in the area⏤ Houston Food Bank, American Red Cross, The Salvation Army, Team Rubicon, ToolBank, Catholic Charities, San Antonio Food Bank, and North Texas Food Bank. These vehicles will be used to increase relief efforts by delivering food, medical services, diapers, personal hygiene kits, bug spray, cleaning supplies and coolers. Other vehicles will be used to help serve as first responder vehicles in case of future emergencies.
Ford employees, Houston-area Ford dealers and local nonprofits gathered at the Houston Food Bank for the "Texas Is Family" event that marked the donation of vehicles and the ongoing reinforcement to the community.

The nonprofit organizations came together in honor of this event, and to show the continuous support for the Hurricane Harvey victims. Houston Food Bank moved its emergency food pantry outside to serve clients while The Salvation Army provided beverages from its canteen and information on its services. Also, the American Red Cross provided information about long-term recovery efforts and shared materials regarding its home fire campaign while First Book hosted a pop-up library for local schools to provide supplies and books for their teachers.

"We want to thank all of our employees, dealers and nonprofit partners who stepped up when the people of Houston needed them most. As another hurricane season approaches, we stand strong in our pledge to continue to help families and communities get back on their feet," said Jim Vella, president, Ford Fund, the philanthropic arm of Ford Motor Company.

Along with the vehicle donation, Ford has presented a special "Texas Is Family" assistance bundle to over 8,000 customers who have lost or had vehicles destroyed due to the hurricane. This package allows these Ford customers to have the same below-invoice price as Ford employees and their families, as well as payment deferrals.
The Houston area isn't the only place where Ford has supported disaster relief. Ford is known to provide help in the United States and around the world as well, and in 2016 Ford applied its first Disaster Relief Mobility Challenge. This challenge allowed three nonprofits to purchase a custom Ford vehicle to maintain their different disaster response needs.

Houston is just one of the 26 markets in the US and Puerto Rico where Ford and its dealers have reached out to help reach a community's needs. Their plan, Operation Better World, began in 2008 and a variety of outreach programs have been implemented in Houston.
Altogether, Ford Motor Company, their dealers, and Ford Fund have invested in more than $30 million in Texas communities since 2000 proving their strong connection with the public.