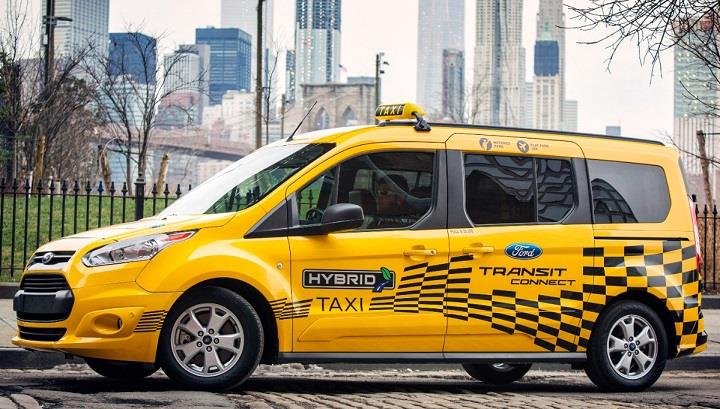 The taxi is going Hybrid thanks to Ford introducing the brand new 2019 Transit Connect, and the very first ever Fusion Hybrid Taxi. Taxis are one of the most used vehicles around the country, from airport runs to just off the sidewalk, society relies on them for the basics: traveling from point A to point B without hassle. With recent gas prices going up, Ford thought it was time to do something about the huge amount of money being put towards gas for taxis. Thanks to these new Hybrids they will be able to go farther and longer without racking up a large refueling bill.
New 2019 Transit Connect Taxi
The all new 2019 Transit Connect Taxi has the ability to connect anyone with an equipped 1.5-liter EcoBlue® diesel engine, and an EPA-estimated Highway rating of at least 30 mpg. The Transit Connect Taxi offers seating for five with a roomy and flexible interior well-suited for any service. With more than 60 cubic-feet cargo volume behind the second row it beats the Nissan NV200 Taxi.
With the brand new EcoBlue diesel engine, the 2019 Transit Connect Taxi comes with a recessed second-row seat, and a standard taxi upfit wiring harness. For safety the Transit also includes first-row side curtain airbags, an optional roof access hole for signage, and for the driver's convenience a reverse sensing system. This taxi is also available with School Bus Yellow paint.
With the standard dual sliding side doors they provide and extra wide entering and exiting area riders can step out with ease. The low vehicle floor ensures easy step-downs and step-ups without having and strain to the rider. The new taxi can be made to accommodate anyone with a wheelchair accessible option through the Ford Qualified Vehicle Modifier program. The modification features an easy-to-deploy ramp that has the capability to convert to a deck for cargo when stowed away in the back.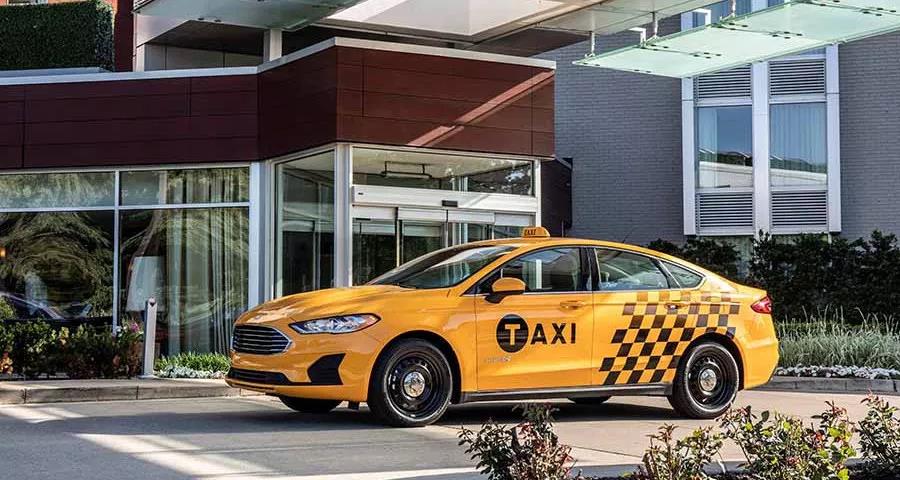 The First-Ever Fusion Hybrid Taxi
As taxis are more high volume in cities, going Hybrid is a new step towards making the air cleaner and optimizing fuel efficiency.
Introducing the first-ever Fusion Hybrid Taxi. This taxi shares parts and a comparable EPA rating with a Ford Police Responder Hybrid for much improved durability and efficiency. The projected EPA-estimated ratings for the Ford Fusion Hybrid is 40 mpg City, 36 mpg Highway, averaging to about 38 mpg.
The 2019 Fusion Hybrid Taxi also includes upgrades such as police-tuned suspension with increased ride height, calibrated high-performance brakes, and also includes steel wheels. It features heavy-duty cloth seating or optional vinyl seating to keep the taxi looking it's best while still transporting thousands of people. The Hybrid also includes vinyl floors, and is available with School Bus Yellow paint. For high performance a standard rearview camera, and a special mounting plate on top of a panel allow you to secure a taxi meter and other equipment.
Both Ford Hybrid taxis are fuel efficient, durable, and all wrapped with a fresh a look. The all-new 2019 Transit Connect Taxi and 2019 Fusion Hybrid Taxi can be ordered now, and will be on sale by the end of 2018.