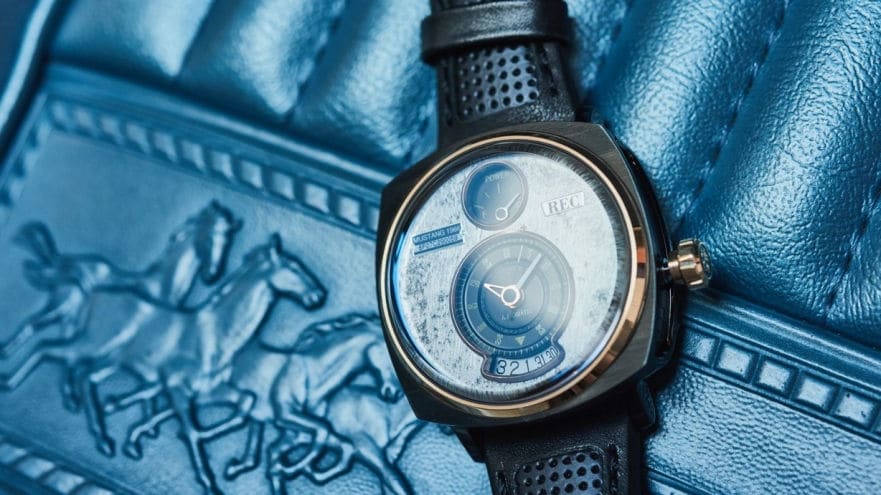 By Natalie Kuss
Not all sentimental items are portable or practical. This is especially true for car enthusiasts who can only watch as their beloved but irreparable classic cars collect rust. Fortunately, a watch company in Denmark has come up with an alternative solution to taking old Mustangs on one final ride to the scrapheap. REC Watches has created a watch that utilizes components from classic Ford Mustangs, transforming these broken-down vehicles into elegant timepieces.
REC Watches incorporates material from donated Ford Mustangs to create distinctive watches starting at $1,495. The creators of this watch, Christian Mygh and Jonathon Kamstrup, search salvage yards for old vehicles that can be converted into multiple designs. The company traces the history of each vehicle so the customer knows they are receiving a quality product with a unique backstory. The information collected is made into a bespoke video that is sent to the customer with the product. The video includes conversations with previous owners of the vehicle, images of the vehicle throughout the years, and any stories that involve the Mustang.
Co-Founder Christian Mygh wants to change the way people see old cars. He states: "Most people would just see a pile of metal, a ghost of a Mustang. We see something completely different – the soul of a car and a story that needs to be told. I'm not cutting up Mustangs. I'm bringing Mustangs that are beyond repair back to life as a watch."
The luxury design of each watch incorporates the vehicle identification number, year of production and other features of classic Mustangs. The hands, date, and dial numbers are made to resemble the car's dashboard. The power dial of the watch that shows the remaining battery life is intended to look like a fuel gauge. REC Watches creates collections based on the Mustangs they find. For example, the P51-04 collection of 250 watches is based on a 1966 Raven Black Mustang.
REC Watches has come up with a unique solution for keeping broken-down classic cars from the junkyard. Car enthusiants can wear their passion on their wrist with the Denmark company's watches made from vintage Ford Mustangs.