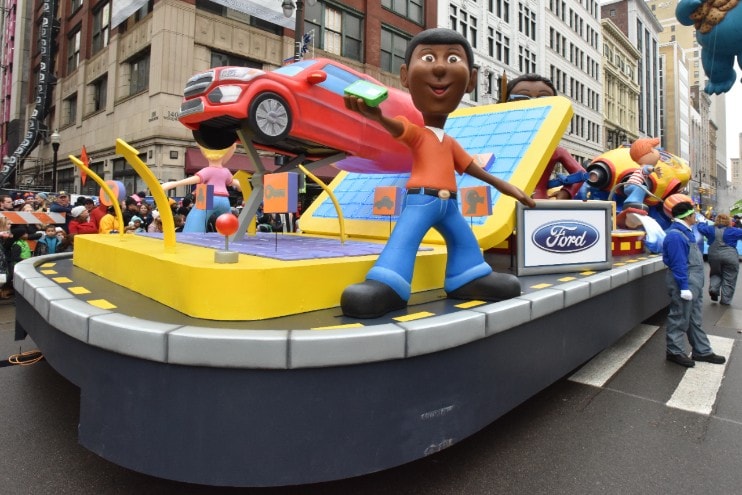 By Kelsey Blaylock
On November 23rd, Detroiters were able to view Santa Claus coming to town, along with Ford vehicles as well during the 91st annual America Thanksgiving Parade. This American Thanksgiving Day Parade is one of many signature events that Ford Motor Company is affiliated with.
Over 45 Ford vehicles rolled along downtown Detroit's Woodward Avenue including cars, trucks, and SUV's. The newly developed Ford SUV's pulled the heavier cargo by transporting floats and celebrity passengers. Celebrities such as singer/songwriter Big Sean, who is a current participant in Ford Fund's Men of Courage project served as grand marshal. Also, Detroit citizen and broadcaster Carmen Harlan made an appearance.
Three SUV models were used: The brand-new Ford expedition, the traditional Ford Explorer, and the smallest version of Ford's sport utility vehicle, the new Ford EcoSport.
Upon completion of Detroit's new QLine streetcar system, and its modernized downtown, the theme was "Woodward!! Avenue of Dreams!," to celebrate Detroit's achievements. Woodward Avenue has been the course to start the holiday season off for many generations. Citizens lined up on the side of the street ready to experience this Detroit tradition.
The Ford's Mobility One float was featured in order to reveal the company's timeline of their prosperous past and an innovational future, which was hauled with the all-new Ford Expedition. This float was able to showcase over 100 years of Ford's accomplishments in the Motor City.
Ford Motor Company used the parade to not only advertise their successful history and eventual projects, but joined with Gleaners Community Food Bank and The Parade Company to encourage members of the community to help feed the hungry.
After the parade, it was followed with the annual Hob Nobble Gobble presented by Ford which involved rides, games, and other family entertainment that all benefited The Parade Company this holiday season.
Ford Fund is a year-round program that helps others in need. Ford and its Ford Fund has made high community investments of $166 million in the southeast Michigan area, and their volunteer corps has engaged in 10,000 projects with non-profit partners.
"Generations of men, women and children have cherished memories of the parade and the joy and excitement they shared as a family," said Jim Vella, president, Ford Motor Company Fund. "Ford is proud to support America's Thanksgiving Parade, the Ford Fireworks and so many other social activities that enrich our community life and make us all Detroiters."